Soft Mop Pads for SpinWave® (2 pack)
This part works with 2 products. View Products
This part works with the following products
Model Shown: 2039A
Similar Models: 2039, 20391, 20395, 2039H, 2039Q, 2039T, 2039W
BISSELL Rewards Program
Join the BISSELL Rewards program and earn points toward exclusive discounts. Earning points is easy. Just register BISSELL products, make online purchases, and participate in special events and online activities. You can keep track of purchases and easily reorder replacement items (filters, mop pads) on your personalized My Account page. Plus, you'll enjoy expedited customer service. Now, cleaning is more rewarding than ever!
Earning points is easy.
Complete your BISSELL personal profile.
Purchase and register BISSELL Products.
Keep track of your Reward Points at My Rewards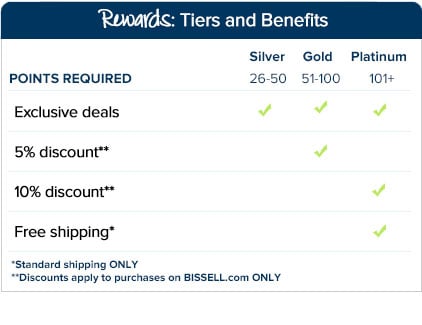 When you make a purchase at bissell.com, your points are automatically entered. If you purchased your product or consumable somewhere other than bissell.com, you can register it on bissell.com up to 90 days after purchase to receive your Rewards Program points. Make sure that you create an account during registration so that future purchases will automatically give you the benefits you have earned!
Shipping & Handling
Most Machine/Formula orders delivered in 3-4 business days; Parts delivered in 5-7 business days. Expedited shipping is currently unavailable.
1. How much does shipping cost?
We offer free standard shipping on all orders over $40 on bissell.com! No coupon code is needed.
Here are rates for other order amounts, and shipping methods:
| Order Amount | Standard Shipping | Expedited Shipping |
| --- | --- | --- |
| Up to $4.99 | $3.95 | $8.99 |
| $5 - $19.99 | $5.95 | $14.99 |
| $20 - $39.99 | $7.95 | $14.99 |
| $40 - $99.99 | FREE! | $14.99 |
| $100 - $229.99 | FREE! | $21.99 |
| $230 + | FREE! | $35.99 |
2. When will my order arrive?
After adding items to your shopping cart, you will able to choose from two shipping options:
COVID-19 Update:
| Order Type | Standard Shipping | Expedited Shipping |
| --- | --- | --- |
| Machines/Formulas | 3-4 Business Days | Unavailable |
| Replacement Parts | 5-7 Business Days | Unavailable |
3. What are considered business days?
Business days include Monday - Friday and exclude Holidays.
Typical Holidays: New Year's Day, Memorial Day, Independence Day, Labor Day, Thanksgiving Day, Christmas Eve and Christmas Day.
4. When will I receive my tracking number?
Tracking numbers are sent in an email 24-48 hours after your order ships. This delay allows the shipment to be processed by the shipment carrier's website. Your order should still arrive within the original estimated window. The email will arrive with the subject, "Your BISSELL shipping confirmation".
You can also visit the Order Search page anytime to find the latest status of your order, including its tracking number once it has shipped.
5. Will my entire order arrive in one shipment?
Multi-item orders may require shipments from multiple warehouse locations, so you may receive some items separately. Details for each shipment will be provided by email and will be available on the Order Search page.
6. What about orders outside of the continental US?
Standard shipments to Alaska, Hawaii, Guam, Puerto Rico, American Samoa and Virgin Islands will arrive within 15 business days.
7. What about military addresses?
If you have a P.O. Box, an APO or a military address, you will need to place your order by contacting support.
Return Policy
BISSELL.com's return policy is simple and convenient:
If you're not completely satisfied with your purchase, return your item(s) in its original packaging with all accessories, manuals, and parts, for a refund. You have 30 days from the delivery date of your original purchase to make a return*.

You can arrange for at-home pick-up of your return

Pay just $4.95 in return shipping

This return policy is for merchandise purchased directly from bissell.com only and does not override any retail establishments return policy
*Cleaning formula purchases cannot be returned or refunded
Full Return Instructions and Refund Details: Learn more
Return Instructions:
Pack up the product:
For returns of The Anna Upright Cordless/Hybrid Vacuum:

Contact us at 1-800-237-7691 for packing instructions. This unique product requires special care for packing and shipping.


For all other returns:
Pack all items (including all accessories and manuals) securely in its original packaging and include the packaging list that was sent with the order.

Apply the return label:
For returns of The Anna Upright Cordless/Hybrid Vacuum:

After you have contacted us at 1-800-237-7691, we will send you a box and label to use to ship the product. A $4.95 return shipping fee will be deducted from your refund.


For all other returns:
Attach the return address label on the outside of the package being returned. A $4.95 return shipping fee will be deducted from your bill.

Ship the package:
For all returns:

Take the package to an authorized ship center
If you would like to schedule a pick-up, call the FedEx Return Program at 1-800-Go-FedEx, or 1-800-463-3339
Refund Information:
Once we receive the merchandise, it will be inspected to make sure it meets quality standards. BISSELL Inc. reserves the right to deny refund for returned merchandise which appears to be excessively used or abused.
Once your return is received by BISSELL, it may take up to two weeks for your refund to be issued. Original shipping and handling costs will not be refunded. The refund will be issued in either check or credit format based on the original purchase once the return has been processed at our facility. If you are out of the 30 day window for returns, refer to the warranty policy in your user's guide.
Return mailing address:
BISSELL Homecare, Inc.
901 E Hi-Line Rd
Pharr, TX 78577
Some products feature a 60-day return policy:
2 pack of Soft Mop Pads for the SpinWave® Hard Floor Spin Mop - Series 2039.
This part works with 2 products. View Products
This part works with the following products
Model Shown: 2039A
Similar Models: 2039, 20391, 20395, 2039H, 2039Q, 2039T, 2039W
Product Specs & Support
| | |
| --- | --- |
| Name | Soft Mop Pads for SpinWave® (2 pack) |
| Model No | 1611297 |
| Quantity | 1 |