BISSELL Rewards Program
Join the BISSELL Rewards program and earn points toward exclusive discounts. Earning points is easy. Just register BISSELL products, make online purchases, and participate in special events and online activities. You can keep track of purchases and easily reorder replacement items (filters, mop pads) on your personalized My Account page. Plus, you'll enjoy expedited customer service. Now, cleaning is more rewarding than ever!
Earning points is easy.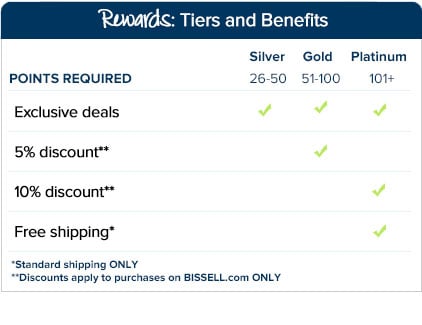 When you make a purchase at bissell.com, your points are automatically entered. If you purchased your product or consumable somewhere other than bissell.com, you can register it on bissell.com up to 90 days after purchase to receive your Rewards Program points. Make sure that you create an account during registration so that future purchases will automatically give you the benefits you have earned!